Best interstate removalists comparison to get you moving with the right company
There are many things to consider when you are moving interstate. Not only do you have to worry about the cost of the move, but also the quality of the service. With so many companies out there vying for your business, it can be hard to know who to trust.
That's why we've put together a list of some of the best interstate removalists in Australia, to help you make an informed decision.
Whether you're moving from Melbourne to Sydney, Brisbane to Perth, or anywhere else in the country, these are the companies that have been around for a long time, have for the most part good reviews and should get your possessions to your destination safely. We say should, as this is an external review (we are also a removalists company, so upfront there is bias). The key thing is you still need to always vet the company you are hiring by checking online reviews, the way they speak to you and the overall vibe / feel you get from all interactions via email and phone. At the end of the day, the items you are moving are valuable to you; no one will ever care about them as much as you do.
Key moving company contenders
---

Austate Removals
This article is about some of the best interstate movers in Australia and while we are biased we need to highlight our business first. We are not ashamed to say we are the best but we are not the biggest, and we feel this is one of our strengths, as we offer very personalised and tailored furniture moving services. This means you will be talking to the owner often and the team will move your items as if it's their own. So we are proud to say, we offer true peace of mind with guarantees to back up our interstate moving service.
Some key differences and why you should consider us for your interstate move:
We are an Australian-owned family business that has been providing top-quality interstate moving, packing and storage services since 1990.
We have a full team of experienced professionals who are dedicated to getting the job done right, and we're always working to improve our methods so that we can provide the best possible outcomes for our customers.
We know that life changes over time, and we strive to keep our business evolving so that we can always offer the best possible service and options needed. One key thing that has become very important - we provide a moving service with a storage container, so you don't have to move twice if you can not move into your new location immediately. This saves everyone time and money and makes it way easier.
We don't just answer questions, we provide solutions.
If you're looking for interstate movers who will treat your belongings with care and get the job done right, easily and on time then we at Austate Removals would be honoured to be your movers. Contact us today to get started!
---
Kent Removals & Storage
Kent Removals & Storage is a full-service interstate mover that has been in business for over 70 years. Their services include packing, loading, unloading, and transportation of your belongings both within Australia and Overseas. They also offer storage options if you need to store your belongings for any length of time. Kent Removals & Storage is a family-owned and operated business, and they pride themselves on their customer service and attention to detail. They have a team of experienced professionals (over 500 as per their website) who will take care of your belongings as if they were their own. When you choose Kent Removals & Storage, you can be confident that your belongings are in good hands.
---
Allied Pickfords
Allied Pickfords is one of Australia's largest interstate movers. They have over 40 branches across all states of Australia, and their interstate moving services are second to none. We're also part of the worldwide moving and relocation services group, SIRVA. This means we have access to over 600 locations around the world, making them a good choice for your international move. As they are a big company, it's important you google your local company and see what sort of reviews they are getting on Google as this may confirm or change your decision.
---
Grace Removals
Not many Australian companies can trace their history back as far as Grace Group. Originating from the Grace Bros retail and home services that started in 1885, Grace has evolved to become one of Australia's leading providers of integrated asset moving and information management solutions. They are an interstate mover that offers a comprehensive range of services that goes above and beyond simply transporting your belongings from A to B. They can handle every aspect of your move, from packing and unpacking to storage and asset management. They also offer a range of value-added services such as pet transport, vehicle transport and piano removals. Whether you're moving house, office or factory, they have services that can likely meet your needs.
---
Interstate Removals
Interstate Removals offer backloading and interstate moves, so if you are on a budget their backloading service could be a viable option. They say they have an entire network of trucks all over Australia ready at any time - so even on weekends or late nights you can get your move done at the time most suited to your needs.
---
Two Men And A Truck
Two Men and a Truck began as a family-owned business in 1993, with just one truck. Today, the company has 47 trucks and, as per their website, state they carry out over 10,000 moves each year interstate. They have a humble beginning and they appear to work hard to maintain their traditional values while also having a forward-thinking vision. The company says it is dedicated to providing quality services and ensuring each customer has a positive experience. With its friendly and professional staff, Two Men and a Truck are an option to consider for your interstate move.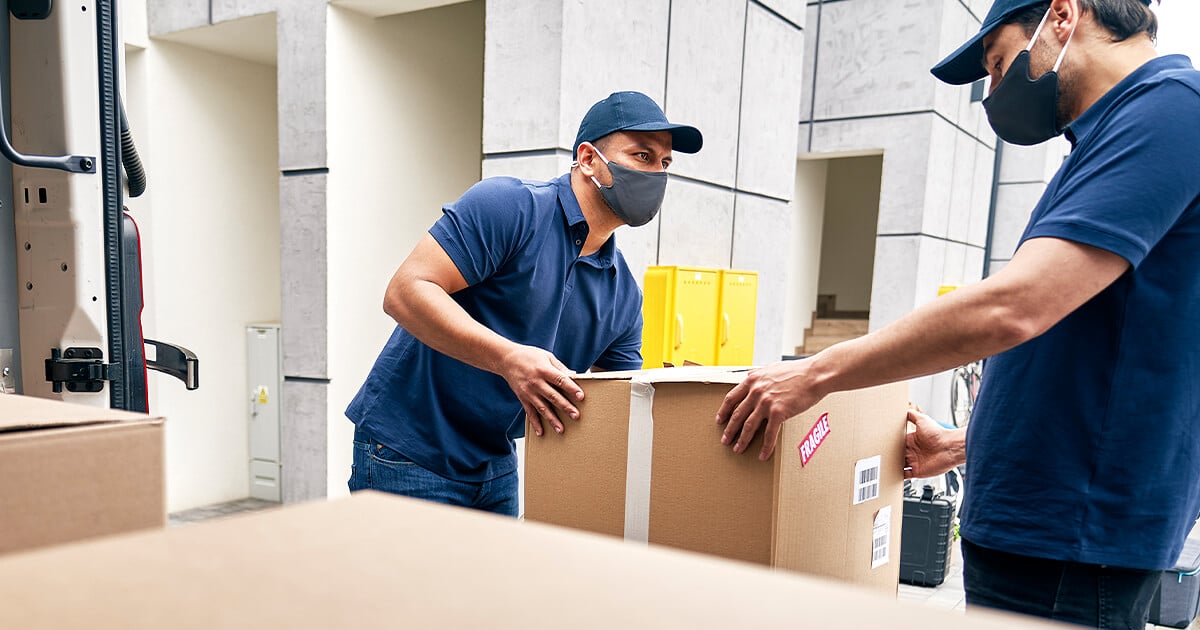 Some final tips on what to keep in mind when making your decision on your interstate removalist company
If you're looking for interstate removalists, there are a few key things to keep in mind. Here are some tips from the experts at Austate Removals to help you make the best decision for your move.
Get quotes from multiple companies.
Don't just take the first quote you get. Compare rates from at least three different interstate removalists so that you can get the best deal.
Check reviews.
Before you hire any company, be sure to check online reviews. This will give you an idea of what others have experienced with the company and whether or not they would recommend them.
Ask about insurance.
Make sure that your chosen interstate removalists are insured in case anything goes wrong during the move. This will give you peace of mind knowing that your belongings are protected. Some like us, even provide their own guarantee:

Our Safe travel guarantee - We are confident in the quality of our services, which is why we guarantee we'll fix any damage as a result of any fault of our own during your move with us. View more details on our website here>>

Make sure they are experienced.
You want to make sure that the company you choose has experience with interstate moves. This way you can be confident that they know what they're doing and will be able to handle your move smoothly.
Get everything in writing.
Make sure you get a written contract from the company detailing all of the services they will provide and clearly outlining the costs. This will protect you in case anything goes wrong during the move.
Final words and all the best with your interstate move
Moving interstate can be a big undertaking, but with the help of a professional removalist company, it can be a smooth and stress-free process. Keep these tips in mind when choosing a company to help you with your interstate move. We know it's a big decision, so give us a call and discuss your needs and we will get your valued items to your new destination quickly and safely.