Pool table sizes: Choosing the right one for your room
Pool tables are a great way to enjoy quality time with friends and family at home. Whether you are a competitive player or simply enjoy the game, there is nothing like having your own pool table at home.
Choosing the right size pool table for your room, however, can be a daunting task. In this article, we will walk you through the different pool table sizes and factors to consider when choosing the right one for your home.
If you are moving your pool table into your new home it is vital to have it moved by a pool table removalist who can treat your table with the care that it deserves.
What is a regulation-size pool table?
Regulation size
Generally, a regulation-size table is built with a ratio of length to breadth of 2:1, meaning the table is twice as long as its width. For instance, a 9ft. (2.7m) table will be 4.5 ft. (1.37m) wide. The length and breadth are measured from the nose of the cushion to the same opposite.
Tournament size
Tournament-size tables can be 9ft. (2.7m) long with a minimum of 1" (2.5cm) thick slate and rail width of between 4" to 7.5" (4cm to 19.05cm) and table height of 29.5" to 31" (75 to 79cm).
Snooker table
Snooker tables are usually 12' x 6' (3.65m x 1.82m) or 140" x 70" (355cm x 178) and an oversized table can be 10' (3m) long.
What size tables are good for home use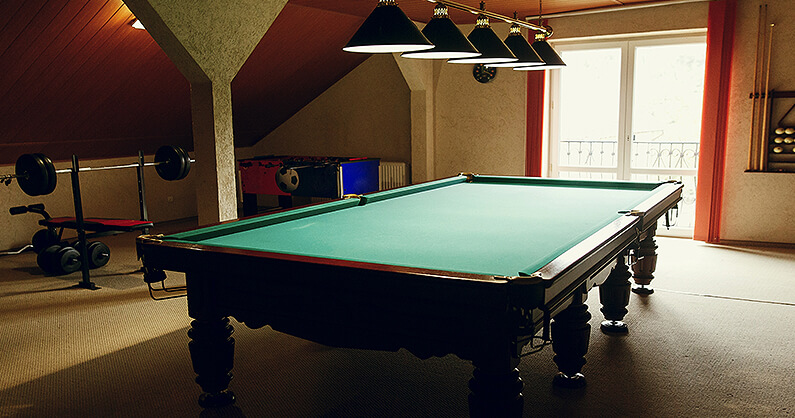 There are several pool table sizes to choose from for your home, with the most common sizes being 6 ft (1.8m), 7ft (2.1m), 8ft (2.4m), and 9ft (2.7m).
The 6ft pool table is the smallest size available. The 7ft. table is perfect for smaller rooms and those who are just starting to play. This size 88" x 44" is suitable for both adults and kids to play comfortably, but the game may feel cramped when played with more than a couple of people at a time.
The 8ft (2.4m) pool table is the most popular size for homeowners. It's an ideal size for most homes, and it offers a good balance between playing space and room size. It also provides ample room for more than two players without feeling too crowded. However, it's important to make sure that there is enough space around the table to allow for comfortable play.
The 9ft pool table is the largest standard size available, and it's usually found in professional settings such as pool halls or sports bars. This size is not recommended for home use unless you have a particularly large room. The game will feel spacious and comfortable when played with several people, but it may be too big for a standard-size room. Pubs will often have coin-operated 7' tables or the 9' tables.
What size table should I get for my pool room?
When choosing a pool table size, it's essential to consider the size of the room in which you plan to place it. Generally, a good-quality table will have a slate base though some have fibreglass bases.
The playing surface of the table is not the only factor to consider. You also need to consider factors such as the cue length, whether there is enough space around the table for comfortable play, and the height of the players.
Ideally, you should have at least 5 feet or 1.5m of clearance around the table to allow for comfortable play.
Keep in mind that you have enough space for:
stools around the table
Scoreboards
cue racks
a cupboard for storing the balls, chalk and other accessories
How to measure up
Step 1: Decide what length cues you intend to use, medium size for adults is 48" (122cm) and large is 57" (145cms).
Step 2: Double the length of your chosen cue and measure the table width from the nose of the cushion to the same opposite. This gives you the minimum width of the room you need. Then do the same for length.
A general rule of thumb is a 5' (13cm) clearance around the table.
For a 7' (2.1m) table you need a minimum room size of 16' x 12'6" (4.8m x 3.8m) and for an 8' (2.4m) table a 19'x 13' (5.7m x 3.9m) size room is the minimum.
You might need to consider whether you plan to use your pool table for professional or casual play. If you're a competitive player and want to simulate professional conditions, then a larger table is ideal. Casual players, on the other hand, can choose a smaller size that suits their needs and room size.
How to set up my pool table
For comprehensive help on setting up your new pool table check out our pool table setup guide. Remember to leave enough spare room for the cue rack, stools for players and accessory cupboard and go and have fun but don't bet the sheep station on the game.
To sum up
In conclusion, choosing the right size pool table for your room is an important decision to get right. It's essential to consider the room's size and layout, the player's height, and how you plan to use the table. Additionally, if you are moving your existing pool table into your new residence then it is wise to contact a pool table removalist professional considering the size and excessive weight of a pool table. You won't be able to play a game if you stuff your back.
Should you decide to move the table yourselves, have a look at our guide on dismantling and reassembly of the table.
With these factors in mind, you can choose a pool table that offers the perfect mix of playing space and room size. Don't rush the decision, take your time to consider all the options and have fun! A pool table is a great investment and a fun addition to any home.
Contact us if you'd like a quote on moving your pool table.