How to move heavy furniture
So you've got a big move in mind or on the go and you are after some good ideas about the "how to" of moving DIY-style. A little time spent in preparation is going to pay off in spades later on, so here is where we can help with some suggestions as a professional furniture removalist company.
When you've got to the end of this article you should have a handle on getting the job done. We'll be looking at
Starting with a plan
What equipment you need
Where to get moving equipment
10 techniques to move heavy and large items
Pack and drive a truck in 7 steps
The wrap-up
Starting with a plan
It's worthwhile putting a bit of time into planning your move and how you're going to accomplish it. This might include conscripting friends or family to give you some help in the process.
Plan your route, taking into account timing of your move, traffic and ease of access to your current and new destination, what heavy items you have to move and how you will achieve that. To help you put together a good plan, our moving preparation checklist is a great starting point.
What equipment you need for a house move
For yourself:
Steel cap boots or firm footwear are a must.
Thongs are a definite no-no. You won't be able to shift anything if you've got a crushed foot or broken toe.
For the move:
Furniture sliders purchased from your nearest hardware store.
A two-wheeled trolley preferably with a strap.
A four-wheeled dolly for pianos and really heavy or oversized items.
A 6 wheel fridge trolley, useful for climbing or descending stairs if needed.
Shoulder lift straps are a good idea.
Packing material like blankets, furniture packing, cartons (moving-grade purchased from a removalist, not from junk shops or 2nd hand grocery store boxes - these aren't designed for house moves), bubble wrap and miles of tape.
Tools like screwdrivers and spanners for breaking down items of furniture.
A truck preferably with a lift mechanism at the rear.
Where to get moving equipment
Most equipment rental companies will have the type of equipment you need. The alternative is to buy those items but if you don't intend to move too often then renting what you need is a better option if you've ruled out hiring a furniture removalist.
Truck rental companies are another important resource but don't hire anything too big or too small. Think cubic when assessing your load.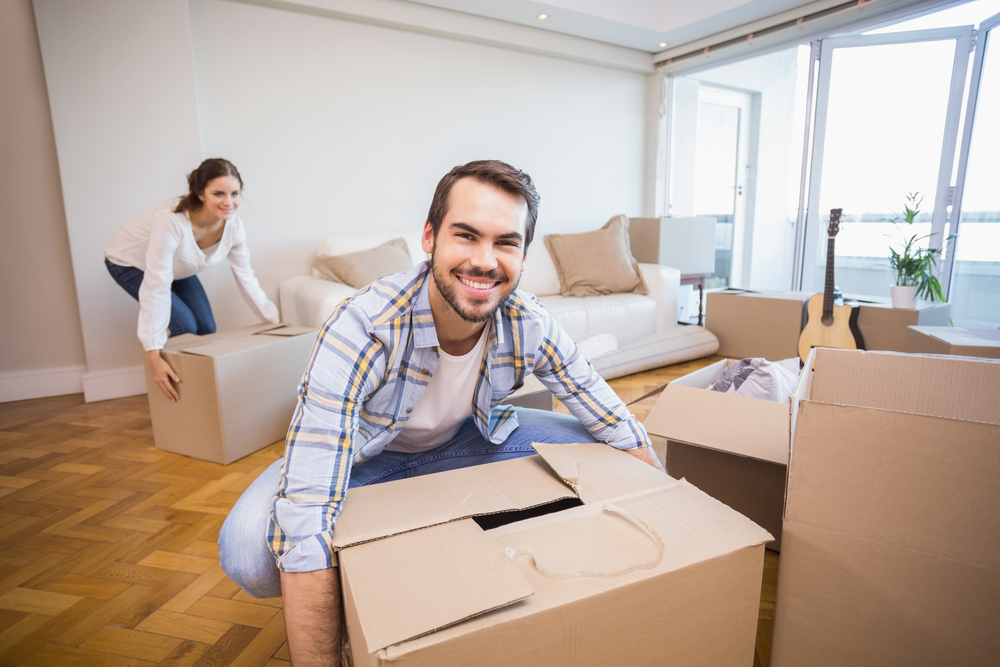 10 techniques to move heavy and large items
If you have to lift and move a heavy or oversized item firstly get some help, don't try it on your own. Remember that your back has to last you the rest of your life. To lift a long item like a divan for instance or an item that is tall, do the high-low method tilting the item so that one person takes the top end and the other person the bottom end so that the weight is more centred.
Use a four-wheel dolly, sliders, or carpet to slide or move heavy furniture but be aware of your floor surfaces as some may mark easily eg cork tiles/flooring or carpet that rolls up under your furniture item.
Fridges are more easily handled on a 2 or 6 wheel hand trolley but pad it up well to minimise damage to the fridge and use straps to hold it to the trolley. Make sure you don't turn the fridge back on for an hour after relocating it so that the gas in it has time to settle down.
When picking up a heavy item bend your knees as if to squat rather than bending your back. That way you are lifting with your legs and arms rather than using your back. The more straight your back is in a lift the better for you.
When walking with an item, hold it close to your body to maintain balance.
Walk through your planned moving pathways in the home to be aware of problem spots like doorways, corners or difficult places like staircases. Declutter pathways rather than risking tripping over things. Sometimes the best route through a house might be leaving by the patio through sliding doors or over a balcony because there are fewer corners to negotiate, even though it might be a further distance to the truck.
Empty any furniture items like dressers, cupboards and bookcase rather than trying to lift them while full.
Consider hiring a heavy lift hiab, crane, or a furniture removalist that specialises in heavy moves for items like safes, pool tables, spas or other items that are beyond your capacity.
Break down items like a heavy desk or pool table using your tools if possible so that you minimise the weight you have to lift in addition to making it easier to pack in the truck.
For chairs and other items with a back on them hook them around corners for easier handling.
We are heavy removalist specialists ourselves - we have the equipment & experience to relocate heavy items like safes up to 1.5 tonne.

Chris Cornish - Owner
Pack and drive a truck in 7 steps
Look at hiring a rear lift truck which will save you a lot of back-breaking work lifting items into the truck.
Remember to lift with a straight back bending at the knees so lifting with your arms and legs.
Where possible break down items like heavy tables or beds to minimise the weight you have to lift.
Place your heavy items down low and against the solid walls of the truck using mattresses, thick blankets and furniture padding to separate and cushion items.
Make sure that the items in the truck are unable to move around in transit to minimise damage and maintain safe control of the truck's load..
Be aware of the height of your truck especially under low bridges or awnings on buildings and remember to swing wide in tight corners. Drive slowly and carefully especially if you have a full load.
Always back up using your mirrors and have an offsider watching at the rear of the truck to alert you to hazards. Ensure you can see your offsider in your mirrors too.
The wrap-up
So there you have it. You'll get the best results by putting a little time into firstly planning and then arranging for all those resources that will help make your move a lot easier on you and your helpers. Also remember to book your truck well ahead of time so you don't miss out.
Make sure you don't rush the job but rather allow plenty of time so that the job is done well and safely the first time. It's no good arriving at your new place and spending the first few weeks recuperating from a slipped disc or worse!
Let us know whether this post has been helpful or if you have any other topics you'd like us to cover. We're here to help!
Need removalist grade boxes for your move? After a heavy removals specialist just for the piano, slate pool table or spa? No problem! We'd love the opportunity to provide you with a competitive quote, call 1800 681 434 or get in touch.