How to move plants when moving house
When you are dealing with interstate removals or a local house move, one of the things you have to think about is your plants. You can't just leave them behind - they need to come with you! But how do you successfully move plants when moving house?
In this blog post, we will teach you everything you need to know on how to move plants when moving house. We've included info on preparing your plants in advance, what to do when packing them and how to keep your green friends safe during transit.
We've broken down the steps in moving your plants into 5 key stages:
3 weeks in advance: Research your plants
2 weeks in advance: Work out what plants you want to take
4 days in advance: Water and check for pests
The day before your move: Box up and pack
The days after your move: Watering and checking the environment
3 weeks in advance:
Research your plants and where you can take them
The first step in moving your plants is to do some research on where you can take your plants. Not all plants are allowed to be transported across state borders, so if you're moving interstate, it's important to check what plants are allowed to be moved and if you need to obtain permission. This is due to biosecurity laws that are in place to prevent the spread of pests and diseases. Each state has different rules about what plants they allow into the state. The easiest way is to search "can I move my plants from Queensland to New South Wales", as an example.
Mover Insider Tip:

You're probably packing other areas of the house at this point - so we recommend keeping some towels and sheets set aside for packing your plants. Often plants are the last thing thought about and then you're in a rush - that's when you're going to thank us for this small tip :).
2 weeks in advance:
Work out what plants you want to keep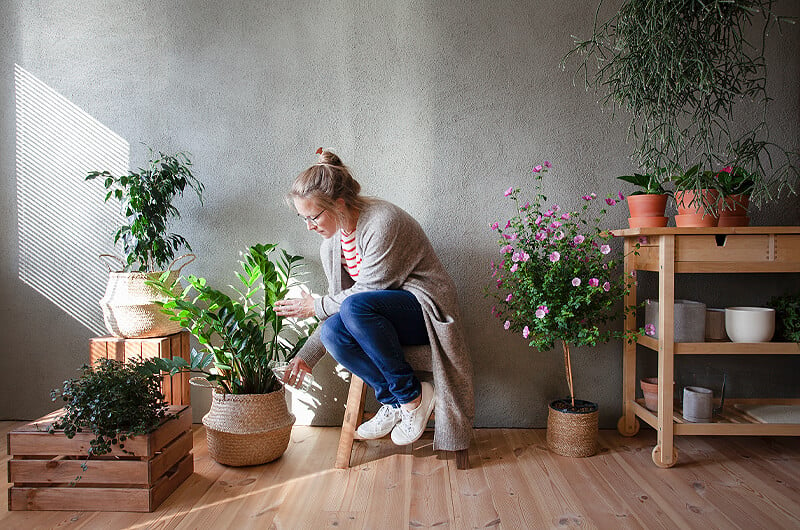 The next step is to work out which plants you want to keep and take with you. This may be all of them or just a few that are special to you. Take note of how much space your chosen plants will take in the truck or your car as these can't be stacked on each other. If you've chosen a removalist for your interstate removals or a local removalist to move across town, check to see if they have restrictions on what plants they can move and see if they have any special techniques or packing options for you to use.
If you're flying, check with the airline as they may have restrictions on what plants they allow on the plane. Some airlines will allow you to bring a small number of plants on the plane with you, as long as they are in a container and meet the weight and size restrictions. Your safest bet is to give the airline a call, to find out what they allow.
Got plants you're not wanting to take with you?
You can sell a lot of plants online to make sure they're going to continue thriving and to make some money (so you can buy more plants once you've moved ;)).
Sell your plants online on Facebook Marketplace or Gumtree for local pickup, or even eBay if you're willing to ship them around the state.
Broken pots never travel well
If you have a broken ceramic or decorative pot, once lifted it will usually fall apart and can't be moved. Re-pot your plant a couple of weeks in advance at least, to ensure your plant gets settled before putting them through the strain of moving.
4 days in advance: Water and check for pests
4 to 5 days before you move, water your plants, trim off any dead or dying leaves and give them a good inspection for any pests or diseases. Watering your plants days before your trip ensures they're both not as heavy and waterlogged when trying to lift them and they don't have excess water runoff which can leave marks and damage your precious belongings in the back of a truck.
If you find any pests, treat the plant with an appropriate pesticide or fungicide. This will help to prevent the plant from getting worse during transport or infesting your new home.
The day before you move: Box up and pack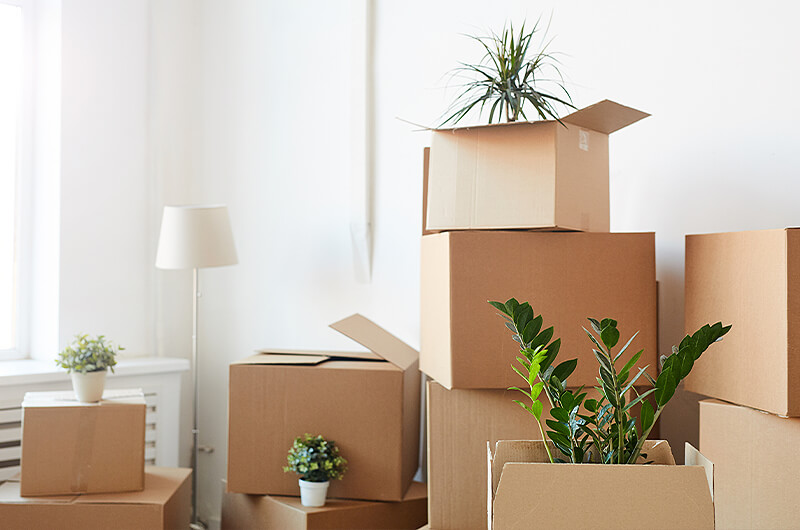 On the day before your move, box up your plants and get them ready to pack in the car or truck. Make sure you label each box with the names of the plants and which room it should go in at your new house. This will make it easier for you to unpack when you get there. If the boxes you've chosen are tall enough, you can seal them shut and put light items on top of the box.
The easiest way to secure your plants in their boxes is by adding scrunched-up newspaper amongst them to ensure minimal movement. Placing your plants directly on the cardboard instead of their saucer is ideal as this will stop them from sliding around as much.
Note;

make sure you've chosen sturdy moving boxes as these are designed to not crumple during transit. Regular cardboard boxes or plastic containers aren't built to take weight and can buckle or crack, destroying your precious plants.

Learn more here >>
For your big plants, there are a few things to consider. If any big leaves or branches are sitting out wider than the pot that it's in, try wrapping a sheet around it, or a thin tea towel around any smaller branches. You can also use twine to gently pull the branches closer to each other, making sure not to put too much strain on the branches from where they normally sit.
Moving day - some quick tips
It's time for the big move! We've got a few tips to help:
If your moving day is forecast to be hot, give your plants a light spray of water to give them a bit of a drink rather than saturating them, then tape up your boxes.
If you're carrying your plants in the back seat of the car, remember to park in the shade when stopping for breaks - the sun through the windows can cause burning.
Stuff some towels between your plants to stop them from moving around, and if you're scared about any of them falling over, try wrapping cling-wrap around the top of the potted plants to keep the soil in.
The days after your move: Watering and checking the environment
Once you've moved into your new house, water your plants and check the environment they are in. Make sure they are not in direct sunlight or too close to a heat source. Adjust the watering schedule as needed to accommodate for any changes in temperature or humidity.
If any of your plants look like they are not doing well, check for pests or diseases and treat them accordingly. It may take a little while for your plants to get used to their new surroundings, but with a bit of love and care, they will soon be thriving in their new home.
Time to get moving
By following these steps, you can make sure your plants survive the move and are healthy in their new home. Moving house is a big task, but with a little planning, you can make it easier for yourself and your plants. Good luck!