How to spot fake reviews to know if your removalist is trustworthy
Are we too trusting in what we read
According to The Conversation if you are 23-38 years old you are in the most trusting age group in accepting what you read in reviews.
For your peace of mind, it is worthwhile to be aware of the occurrence of fake reviews not only for the interstate removalist industry but for any product that you wish to consider purchasing. Below you will find some helpful and revealing points about spotting fake reviews.
Is there such a thing as a fake review?
Some sites can have up to 50% of their reviews that are fake
8/10 people think that they may have read a fake review
85% of people say that they can't tell if a review is fake
Many sites pay for bulk reviews, many from overseas, to boost their product sales
Cornell University has done some good work on recognising fake reviews.
Check them out here>>
According to the article "opinion spam" is occurring whereby phony positive reviews are aimed at helping companies sell products whilst negative reviews are aimed at denigrating competitors products
It may happen that disgruntled former employees or partners intent on exacting revenge in an attempt to undermine a product or service for their own nefarious means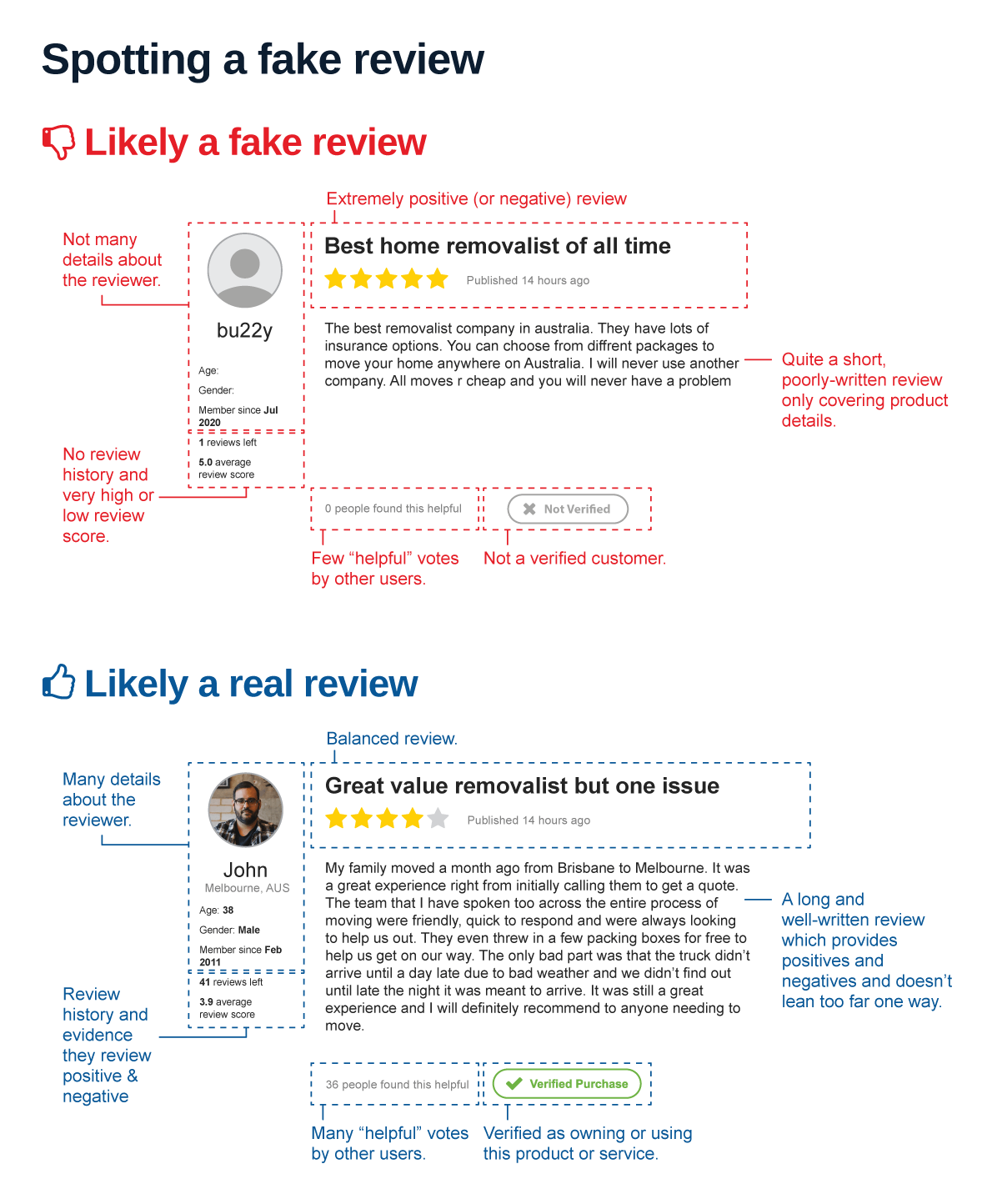 Credibility seeking through falsehoods
Many fake reviews are trying to establish credibility using "I" and "me" statements and overuse of verbs, therefore, creating the false impression that the reviewer has personal experience of the product or service
Phrase repetition. If reviews use "like" or similar phrases over several reviews it can indicate falsehood as the fake reviewer may be producing bulk reviews for clients
Due to the desire to seem credible, fake reviews set the scene using phrases like moving to a better lifestyle, a wealth creation business decision, my partner and I, again to create the impression of personal experience but with a nebulous surreal quality
One indicator of false reviews is the timing of reviews, if there is a spike in the number of reviews within a certain period of time or all reviews are very recent or dated prior to the release of a product then there should be some doubt about the veracity of the reviews
Fake reviews use generic names or faceless profiles sometimes because the reviews are from overseas marketing organisations
Incorrect spelling and grammar as many false reviews are written using poor English as they are generated by overseas marketing firms using people who are unfamiliar with our language
All black or all white, if the product has nothing but glowing reports with no drawbacks then the review may be questionable at best
Shorter reviews without considered discussions that are difficult to read may indicate falsehoods also
Reviews that have more subjective content or are based more on anecdotal evidence than facts, research or data are questionable whereas some detail about products or services is more likely characteristic of genuine reviews
Check out the date of the review especially if it is prior to the release of a product. This is a dead giveaway for falsehood.
Beware of reviews that hand out 5-star ratings for many products, if possible look into the reviewers profile to see if this happens consistently
Over the top or extreme enthusiasm about products is questionable as to its authenticity, Like the old saying goes 'if it seems too good to be true it probably is" Most genuine reviews point out a few drawbacks with a product or service
Competitor bashing or a competitor's product denigrating at the same time as referring positively to another similar product with possibly a link to that product is highly spurious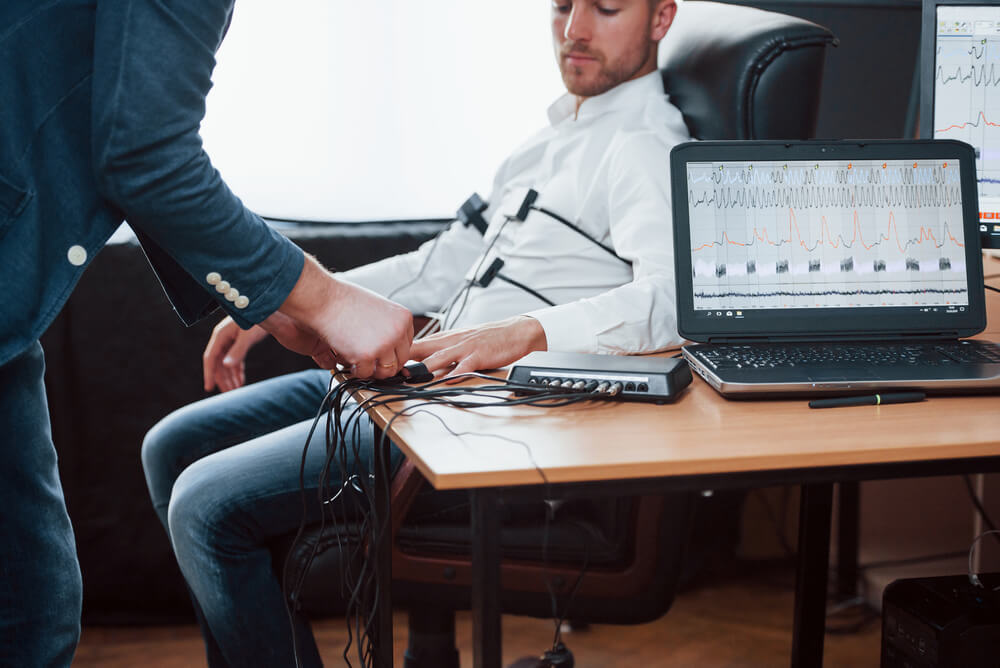 Characteristics of Truthful Reviews
Truth tellers use more nouns throughout their review like inventory, packing, parking, reliability, equipment and more about the facts than the feelings
The scene-setting is irrelevant to giving a product a deserved recommendation
Use of authenticity in people's names and profiles and in particular a photo and verification of purchase or service use indicates genuineness
Genuineness in phraseology and colloquialism in lingo. Use of real person language rather than industry babble which is a dead giveaway. Product users aren't usually au fait with industry terms
Greater spread of dates with some older and spikes of dates only when special sales occur indicates a more believable review
Correct spelling and accurate use of grammar
3 stars or middle of the road reviews are more likely to be an honest evaluation of a product as most honest reviewers can see or experience the drawbacks of products as well as their benefits
Grounded and balanced product endorsement rather than over-the-top- ed-ness. Unpaid testimonials usually are more balanced and realistic
Grey areas or areas of realistic evaluation
A logical flow of thoughts and just good common sense rather than pie-in-the-sky statements
Reviews that are based on a genuine and factual experience with the product or service with some data or research included
Believable and random dates of reviews
Balanced and fair evaluation of products without negative references to competition. Usually if there is any competitor bashing it is generated by a rival product or sponsor
If in doubt ask the reviewer themselves if contact details are available as usually fake reviewers will not respond to contact from enquirers
Check out whether the review is based on a verified or unverified purchase. This can establish the authenticity of the review. There could be a statement of the review being generated after a genuine purchase
In conclusion
For an exercise in spotting fake reviews and now that you are armed with the above info, see how you go with a quick test on The Conversion website to see how good you are at spotting a fake one.
So where to from here. As a furniture removalist company with a reputation for good quality and reliable service for the 30+ years we have been in the industry, we are proud of the genuine feedback that we get from our customer's reviews. We willingly take on board any helpful criticism of our service standards always aiming higher in the provision of service to you our valued client. Of course, as a premier interstate removalist business, we want your business but we will not try and dupe you into doing business with us. Our reputation speaks for itself. If you like the sound of working with get in touch for a free quote and let's discuss your moving need.