The best resources for planning an interstate move
It's a big and often stressful time of your life; the big move! Here is some of the most helpful and popular resources that we have found over the years, that will help make your move less stressful and make it happen with a minimum of fuss.
We have outlined the resources and links you need to help you plan your next move including planning, packing materials, decluttering, managing money and redirection of address resources.
Don't forget to bookmark this page and keep this resource page handy for your next move.
Planning Resources
Checklists & labels to save you time
Planning is key so having good checklists, labels and signs are essential to a great move. Below are some resources that we have found to be extremely helpful. If you know of any other great ones, be sure to let us know in the comments below.
The Art of Happy Moving
This is a unique site that talks about how to declutter your home and how to get your home ready for sale. It takes a unique approach and gives resources on how to live happily, how to declutter and how to get organised in your new home.
Ultimate Moving Preparation Checklist
We put together a detailed guide to help you get organised and make the best of moving to a new place.
House For Six
This is an excellent resource that provides you with some great looking label templates. Outside of this, there is a tonne of helpful information that Deme (an independent blogger) provides on how she uses these resources.
Canva
This is a design tool for non-designers that makes it easy for you to put together great looking notices, labels and signs - all with great looking templates.
School Holiday Dates
Ensure that your planned move is outside of school holiday periods to avoid all the complications that come with those times of the year like traffic, busyness, higher pricing, accessibility to addresses, availability of resources etc. The below state education department list will help you plan better, no matter what state you're moving to or in.
School Finder / Search Resources
The kids will need their school details and progress reports forwarded to the next school or perhaps you still need to find the perfect school for your children. The below two resources will help you get exact address details and also select some school options for consideration.
Department of Education Schools Directory
To find the closest school to your new address you can use the Schools Directory to find a school (all state, independent and Catholic schools) in your local area. It allows you to search by the school name or suburb and/or you can narrow your search down by region or type of school.
Help on picking a school
The Government site provides some great tips on how to go about choosing the best school for your kids.
Insurance Check & Finder
Check out your insurance options for both the old and new address. Make sure your new address is insured from the day before handover and the old is still covered up to handover. While you're doing these checks, it might be an idea to see what insurance options are out there to ensure you're getting all your needs met.
Here are a couple of resources to help you find an insurer and see what is on offer:
This is a referral service from the Insurance Council of Australia. It's a great place to get to help you find any sort of insurance provider - findaninsurer.com.au
The Need a Broker service aims to put business owners and consumers in touch with qualified insurance brokers (NIBA member) near them, or those who specialise in their area of specific need.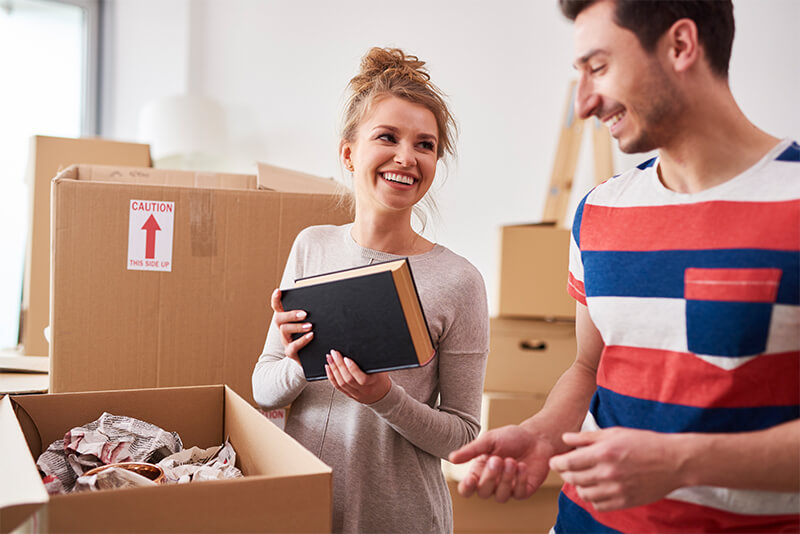 Packing Materials
Often packaging materials like tape, bubble wrap and cartons can be sourced locally but often people resort to getting some of these things from local shops or fresh food supermarkets but our recommendation is that you get high-quality removalists packing materials. This ensures your valuable items will arrive as expected and you will not have anything to worry about.
Here are two key options that will help you get quality packing materials, no matter where you are in Australia:
Packing Tips:
Keep an inventory of your belongings so you are aware of missing items when you unpack
Take photos on your phone of your wiring setups for your TV/DVD, computer, sound system to help you with reassembly. Also, back up your files/photos with an external hard drive.
Tighten the lids on jars and if possible enclose in ziplock bags to prevent spillage. Remember your cosmetics too!
Resources to help you declutter
Moving is also a great time to declutter, make some money and overall make moving into your new location even easier. While we still recommend having a garage sale advertised in your local newspaper below are our top sites to help you sell your items quickly and at the right price. Depending on the type of items you are selling this is something you could start way before the move, even as early as 4 months prior. This way you will more than likely get the best price for key items and not just be selling them to move them, due to your moving deadline.
eBay
A great place to put your items up for auction. This can work well if you have unique, valuable or highly sort after items.
Seabreeze
Great if you are into water sports or the ocean and you have a quiver of boards or sails that haven't been used in awhile.
Selling & Declutter Tips:
Tip 1: Be realistic about what you want to take with you keeping in mind that if you haven't used it in the last year or so you probably don't need it
Tip 2: Research the sites you're selling for similar products you are wanting to sell. This will help you come up with a realistic price for your items, it may also make you decide to keep them.
Tip 3: Ensure that anything you have ordered arrives before your moving date. It can be hard to trace deliveries after you have left your old address
Resources to help you better manage your Money
While you're moving there are heaps of new bills coming in and or setting up at your new location. Below are a couple of apps that we think might help you manage this process better and easier, which should hopefully give you a little less stress and more money in your pocket.
Billminder App
Claims to "remind you to pay bills so you can avoid late fees, save money, and improve your credit score". At the time of writing this article Billminder had a 4.7 star rating out of 3.6k ratings on the Apple App store, so the user feedback is very very positive, so it's definitely an app worth checking out -
True Bill
This app allows you to manage your finances better, by allowing you to easily manage on-going subscriptions and look after your spending. Overall it has some great reviews and it appears to be a great option to help you keep on top of your financial commitments, thus helping you save money.
Interstate Move Calculator
Use our free calculator to easily determine estimated interstate moving costs and also costs to consider if you add a Goods in Transit insurance policy.

Redirection or address-change resources
Be aware of the services that will need to be redirected or changed. We have put together a list and links of the most common and essential items for this.
Electoral - you will need to enrol in your new electorate at aec.gov.au
Postal - you can redirect mail at austpost.com.au
GP or medical clinic. A transferable medical record can be found at myhealthrecord.gov.au
Drivers licences and car registration
Local government - Dependent on the location of your new home, for instance, Gold Coast city council is accessible through goldcoast.qld.gov.au
Pets
Change your pet's chip address at your local vet as pets often become lost when relocated and can try to return home (the old one).
The Wrap Up
So now you have the resources you need to plan your move including where to source packing materials, how to declutter, ways to better manage your money and key resources to help you manage the redirection or address changes you will likely need.
It does seem a bit overwhelming, but every journey is started with the first step. These resources are here to help you with some of those essential things that you may have forgotten to include. Remember to call us if you need a hand. We are passionate interstate removalists and are glad to help you even if it is just a query.