Which riverside suburbs are best in Brisbane & why move there?
Brisbane has become a popular destination for relocation and the riverside suburbs are a great place to land. Brisbane's riverside suburbs offer a lot - beautiful green spaces, convenient city access, nightlife, culture, and great schools - but where do you even start?
While the riverside suburbs are highly sought-after locations to move to, you can find something to suit you, your situation and your budget. Whether you're after a smaller low-maintenance unit or a family home closer to the city, there are plenty of options available.
So read on to learn more about this area. We will cover:
Riverside Brisbane suburbs - overview & what the different suburbs are like
Brisbane's riverside suburbs are an eclectic mix of neighbourhoods located on the banks of Australia's iconic Brisbane River. From Hamilton and New Farm to West End, these localities offer up a vibrant blend of fine dining experiences, lush parkland, and buzzing cultural hubs like galleries and museums.
Residents of the riverside suburbs are particularly lucky to have a unique selection of attractions and landmarks in their vicinity. Some highlights include the massive City Botanic Gardens, popular kilometres-long bikeways, busy street markets, the beautiful riverfront views from the Story Bridge, and nearby South Bank Parklands.
The main riverside suburbs are Bulimba, Hawthorne, Toowong, St Lucia, Yeronga, Graceville, Jindalee, West End, South Bank and Brisbane City. You can find a full list of the suburbs located on the Brisbane River here.
Each suburb has its own unique character and charm. We think that some of the best riverside suburbs in Brisbane include:
New Farm: This suburb is known for its beautiful parks and gardens, trendy cafes, and stylish apartments. It's also home to the iconic New Farm Park and the Brisbane Powerhouse Arts Centre.
Teneriffe: Located just north of New Farm, Teneriffe is a vibrant and trendy suburb that has undergone significant development in recent years. It's known for its riverside boardwalk, trendy cafes, and renovated warehouses.
Bulimba: This affluent suburb is located on the south bank of the Brisbane River and is known for its charming village atmosphere, trendy boutiques and cafes, and beautiful parks.
Hawthorne: Located just east of Bulimba, Hawthorne is another beautiful riverside suburb that's known for its tree-lined streets, beautiful parks, and historic cinema.
West End: While not directly on the river, West End is a popular inner-city suburb that's located just a short distance from the water. It's known for its diverse community, eclectic shops and cafes, and vibrant nightlife.
Our Brisbane suburb guide has additional information and helpful resources on Brisbane itself. The question you need to ask yourself at this point is which riverside Brisbane suburb is right for you?
Why move to a riverside suburb? The big benefits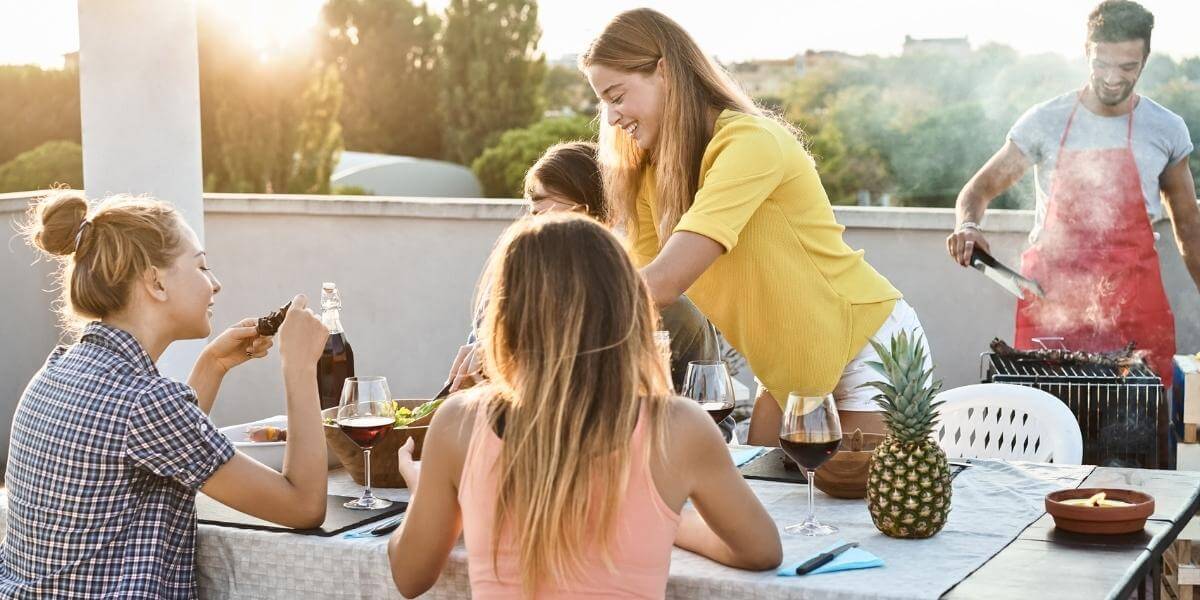 Moving to a Brisbane riverside suburb can offer so much in terms of lifestyle. There's a plethora of recreational activities, from walks along the waterfront to nature parks and kayaking.
You also have access to many cultural activities like the Gallery of Modern Art, the theatre, and museums. South Bank also has a lot to offer, especially for families.
There are well-connected transport links both within and outside the city making it possible to enjoy an urban lifestyle with all the benefits of being close to nature. The CityCat ferry service, buses and trains are all options here.
Additionally, Brisbane has some excellent schools in these areas, making these suburbs some of the best places for families.
Some of the best schools in the riverside suburbs are:
Brisbane Grammar School (Years 5-12) - Spring Hill
Anglican Church Grammar School (Churchie) (Years 5-12) - East Brisbane
Stuartholme School (Years 7-12) - Toowong
Brisbane Boys' College (Years Prep to 12) - Toowong
If you love to get out on the weekend and enjoy markets, you may also want to factor this in. Markets in the riverside areas include:
Brisbane Powerhouse Markets, New Farm
Brisbane City Markets
West End Markets
Collective Markets, South Bank
Riverside at the Gardens Markets, the City
All this and more makes living in a riverside suburb in Brisbane attractive and you may be thinking it's time to call some Brisbane interstate removalists!
The cost of living in different riverside suburbs
Moving to a new city or suburb is exciting but it's essential to weigh up the costs. Housing is most likely the biggest expense to consider and you'll need to balance that with the culture and lifestyle available in each of the different suburbs you're interested in.
The suburbs that are closer to the city and have older, more established large homes tend to be higher in cost. REA has a great list of riverside suburbs from least expensive to most expensive in terms of housing. On the lower end are Riverview, Goodna and Wacol. Bulimba, New Farm, Hamilton and Pinjarra Hills are all on the higher end of the price range.
As all suburbs are in Brisbane, you'll find pretty good access to shops, public transportation, and restaurants. The closer to the city centre you are, however, the higher the prices tend to be (aside from transport). You may also want to consider parking in the expense area depending on how many vehicles you have and if you'll need to pay for extra spaces.
Time to narrow the list & choose an area to explore
Now that you have an idea of what is on offer, we'd recommend making a list of what's most important to you. Do you want to be near the heart of the city? Close to public transport? Get your kids to school easily? Run along the boardwalk before work? Prioritising these things will help you to narrow down your suburb of choice. Once you're there, start looking at costs and see what will fit closest with your budget and with what you're after.
The riverside in Brisbane has so much to offer and we hope you find a beautiful place to call home. As you move, our Brisbane interstate removalists can assist you and help your transition go smoothly. We wish you happy house hunting!