Best suburbs in the Gold Coast to move your family to
What a great idea! Move to the Gold Coast for a better lifestyle, or for your family's (kids) sake or because you have work lined up there.
You can look forward to miles of beautiful sunbathed beaches, magnificent weather all year round, vibrant nightlife, exquisite hinterland scenery, everything you could want in services/schools, entertainment and many other facilities especially suited to families.
With kids of my own, I know the importance of living in a location that will allow them to grow up and thrive. It's essential to the viability of your family settling in successfully to any new location. With the thousands of moves we have done over the years, the Gold Coast definitely has heaps going for it and it's definitely a place I would consider.

Chris Cornish - Owner
To help you find the perfect suburb on the Gold Coast, we've put together some ideas based on our first-hand experience in moving to this location and also the feedback we have heard over the years.
If you're looking for some first-hand feedback there's a great discussion on Tripadvisor and one of the best recommendations that we agree with is to book a trip to the Gold Coast and get a real estate agent to take you around to some key suburbs based on your family's needs.
You will get to leverage their knowledge and at the same time, it will give you time to get a feel for what you like and dislike. Moving your family to a new location like the Gold Coast is not a small endeavour, so try to make this research trip a minimum of 7 days. Get the whole family to come so you can get their thoughts (probably depends on the age of your kids though. ;)
According to the ABS, Queensland had the highest rate of interstate arrivals for the last 5 years at 270,000. Many of these people are shown to end up on the Gold Coast for obvious reasons. The Gold Coast population is in excess of 732,000 as of 2023. The population of the Gold Coast is projected to reach 1.1 million by 2046.
Don't forget some of the incredible entertainment features of the Gold Coast like Dream World, Sea World, Movie World, Wet and Wild, White Water World, Australian Outback Spectacular, Star Casino, and they're just some of the main ones.
Here's what we'll be discussing if you want to jump ahead: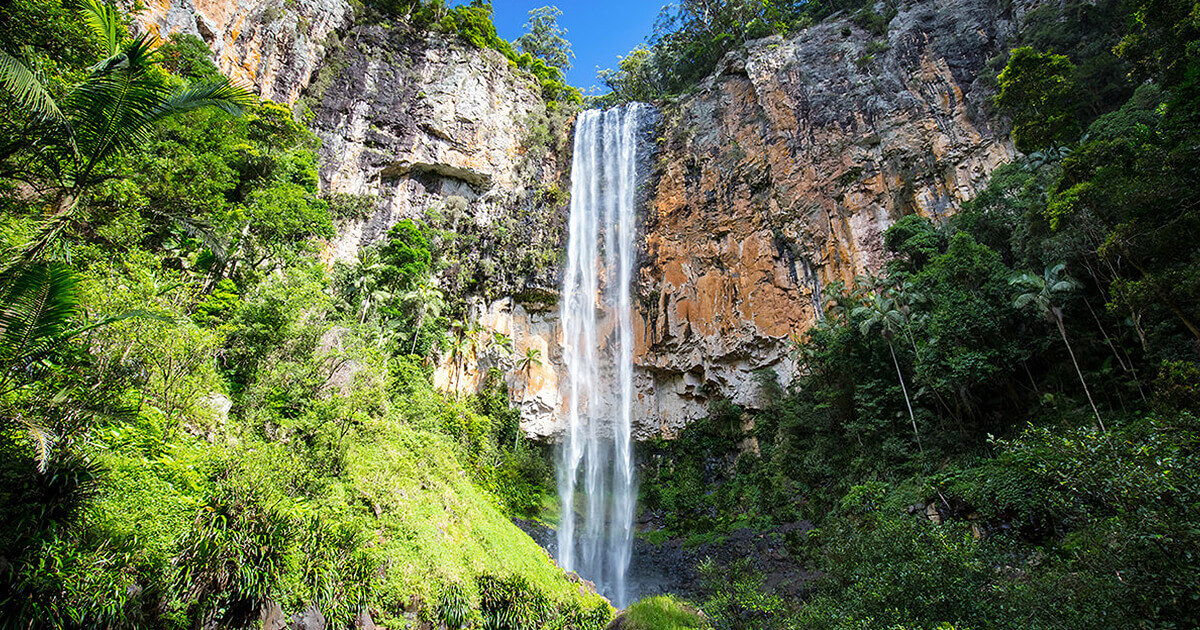 But where on the coast to make your home?
The Gold Coast covers an area of 1334 km2 with 81 suburbs housing 732,000 people according to 2023 ABS figures. Now that's a bit daunting, isn't it? Or possibly exciting? A great site to visit is the Council of the City of Gold Coast.
It's good to write down your own priorities regarding what's important to you in purchasing or renting your new property, size, location, services, proximity to schools, transport, work, aspect or outlook, price and your budget, etc. Then as mentioned, think about having a short prep trip to really get a feel for the suburbs you are considering.
If you do get a real estate agent to take you around, think about asking them what furniture removalist they would recommend or have heard is good. They will definitely know about any horror stories, which we know can happen if you don't use a quality removalist company (like us ;).
It's about you & your family's needs
A great suburb-by-suburb synopsis can be found at Families Magazine but below are some recommendations based on the interests or needs of your family.
If your family's needs involve education for the young ones then you've come to the right place. The Gold Coast boasts some of the top university campuses in Australia like Bond, Griffith and Southern Cross Universities.
Additionally, secondary education facilities are above par with:
All Saints Anglican School
Aquinas College
Australian Industry Trade College
Benowa State High School
Coomera Anglican College
Elanora State High School
Emmanuel College
Foxwell Secondary College
Hillcrest College
St Joseph's College
Surf suburb recommendations:
If you have a house full of beach lovers, then here are some suburbs to check out:
Southport
Surfer's Paradise
Broadbeach
Mermaid Beach
Burleigh Heads
Tugun
Coolangatta (particularly Snapper Rocks, Greenmount Point and Duranbah)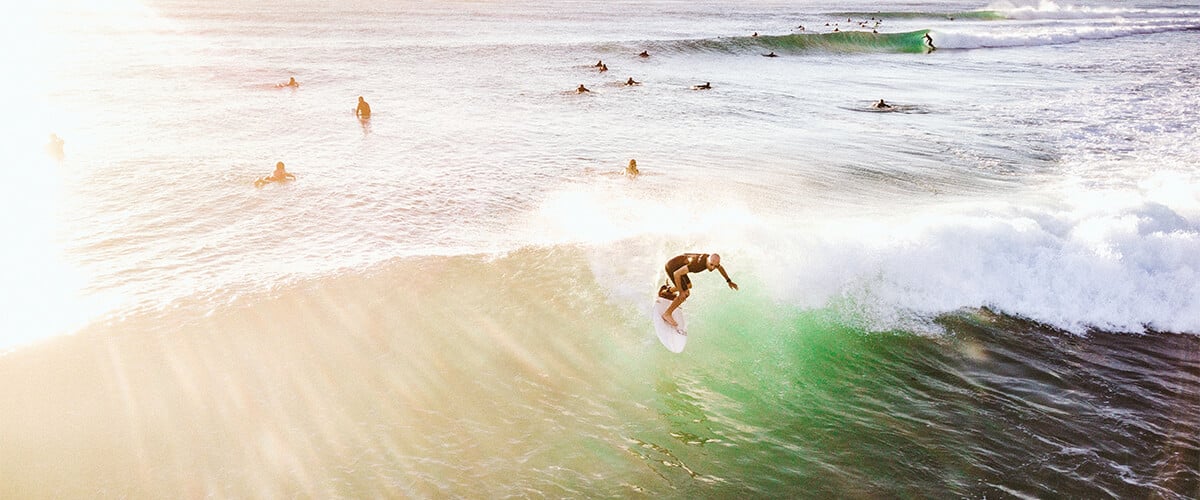 Safe beaches & outdoor spaces for kids
The safest beaches for your young children on the Gold Coast are:
Currumbin Creek Inlet
Kurrawa Beach
Ian Dipple Lagoon
Tallebudgera Creek Inlet
Sea World Drive.
Exciting outdoor spaces include Burleigh Heads National Park, Coolangatta and Point Danger, Lamington National Park, Springbrook, Tambourine, Numinbah Valley and many more.
There is so much for kids to do in the area that it really depends on your priority: beach, park or mountains.
Country acreage suburb recommendations:
If you've got horse riding enthusiasts in the family or you like to spread out on your own piece of land then here are some good suburbs to start with:
Maudsland
Nerang
Mudgeeraba
Advancetown
Wongawallan
Tallebudgera Valley
Suburbs with outstanding hinterland & views:
If you like to sit admiring the view while sipping a cold ale or glass of Chardy, then the list below is going to grab your attention:
Tamborine - just fantastic views from so many points, quirky shopping opportunities, unique people, great climate due to height above sea level
Lamington - great views but a real village atmosphere, surrounded by stunning rainforest, waterfalls
Border Ranges - absolutely breathtaking scenery and surrounding countryside
Beechmont - same as above
Springbrook - beautiful mountains, waterfalls, creeks and rainforest feel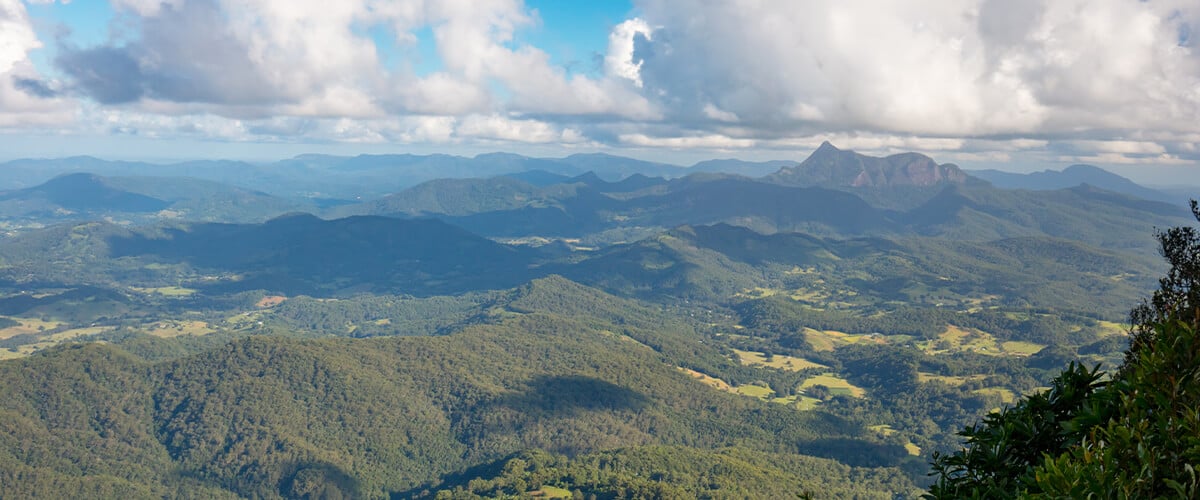 Safest Suburbs on the Gold Coast
If you have concerns about the safety of your family, as we all do, it is a good idea to do some research about the safest suburbs. Having a good feel for the place and understanding the areas with higher crime rates on the Goldie may help you further define where you'd like to live.
That being said, it is worthwhile though to not get too fixated on crime rates but adopt a sensible approach to your own safety by locking up thoroughly every night and installing security devices in your new residence. For a helpful look at security for you and your family on the Gold Coast have a look at the council's own ideas relating to security.
What about getting to work?
The Gold Coast has recently commissioned its light rail which has made public transport more accessible for many coast dwellers but it is currently limited in its coverage of the southern part of the coast. It travels from the Gold Coast University Hospital to Broadbeach South, a distance of 16 km.
The planned extension to the Gold Coast light rail will increase the distance by another 6.7 km terminating at Burleigh heads. This will enhance the public transport availability for many families, workers and students. The project is scheduled to be completed by 2025.
It's worthwhile to keep in mind the invasion that the coast suffers during weekends and school holidays as most of Brisbane's residents head to either the Gold Coast or the Sunshine Coast.
What about property values?
A great site to help you get a feel for property values is realestate.com.au neighbourhoods section. When you visit this site, simply type in the key suburbs you are looking at.
As an example, here's a summary of some info about Robina: Robina has Bond University, the Robina Public Hospital, and Robina town centre amongst other exceptional facilities.
The realestate.com.au neighbourhoods page will also give you an idea of how many properties are up for rent versus for sale, helping you understand the potential value of buying in this location and if it is a high-demand location.
Remember that property values will be higher closer to the coast, particularly in the more intensive high-rise areas like Surfers Paradise and Broadbeach. The great thing about the Gold Coast is you can live in some beautiful leafy suburbs on the outskirts and due to the highways, you can get to the beach or hinterland reasonably quickly.
The most expensive suburbs to live in
Surfers Paradise and Mermaid Beach are by far the most expensive suburbs on the Gold Coast. The other eight suburbs most expensive, according to realestate.com, are Clear Island Waters, Cronin Island, Broadbeach Waters, Tallebudgera Valley, Bundall, Mermaid Waters, Paradise Point, and Guanaba.
What does the Goldie have to offer for entertainment
Don't forget some of the incredible entertainment features of the Gold Coast like Dream World, Sea World, Movie World, Wet and Wild, White Water World, Australian Outback Spectacular, Star Casino, and they're just some of the main ones.
Gold Coast Suburb FAQ
Q1: What are the best suburbs on the Gold Coast?
The best suburbs on the Gold Coast can vary depending on your family preferences, lifestyle, and budget. Some serious research will undoubtedly assist you to make the best choice for your loved ones and yourself. Some popular choices include Broadbeach, Surfers Paradise, Mermaid Beach, Burleigh Heads, and Southport.
Q2: What makes Broadbeach a desirable suburb?
Broadbeach is known for its vibrant atmosphere, with a range of dining and entertainment options. It's also close to beautiful beaches, shopping centres like Pacific Fair, and has great access to public transport.
Q3: Why is Surfers Paradise famous, and is it a good place to live?
Surfers Paradise is famous for its high-rise buildings, nightlife, and beautiful beachfront. It's a popular tourist destination, but whether it's a good place to live depends on your lifestyle. It offers a lively atmosphere but can be expensive and busy.
Q4: What attracts people to Mermaid Beach?
Mermaid Beach is known for its pristine beaches and relaxed lifestyle. It's quieter than some other Gold Coast suburbs, making it a great choice for families or those seeking a more peaceful environment.
Q5: Why is Burleigh Heads highly recommended?
Burleigh Heads is famous for its stunning national park, boutique shopping, and excellent dining options. It's a perfect blend of nature and urban amenities.
Q6: Is Southport a good choice for families?
Yes, Southport is a family-friendly suburb with good schools, parks, and a wide range of amenities. It's also home to the Gold Coast University Hospital and Griffith University.
Q7: What is the cost of living in these suburbs?
The cost of living can vary widely depending on the suburb and your lifestyle. Generally, suburbs closer to the beach and with more amenities tend to have a higher cost of living.
Q8: Are there good schools in these suburbs?
Yes, the Gold Coast has a variety of public and private schools, including primary and secondary education options, in many of these suburbs. Some suburbs may have better school choices than others, so research is essential.
Q9: What public transportation options are available in these suburbs?
The Gold Coast has a reliable public transportation system, including buses and trams. Suburbs closer to the G:link light rail line have easy access to public transportation. Southport, for instance, is a major transportation hub.
Q10: Are there any suburbs to avoid on the Gold Coast?
While the Gold Coast is generally a safe place to live, some areas may have higher crime rates or be less desirable due to noise, traffic, or other factors. It's advisable to research specific suburbs and consult with locals or real estate agents to make an informed decision.
Q11: What recreational activities are available in these suburbs?
The Gold Coast is known for its outdoor activities. You can enjoy surfing, hiking, cycling, water sports, and access to numerous parks and recreational facilities in these suburbs.
Q12: How can I find a suitable property in these suburbs?
To find a property in the Gold Coast suburbs, consider contacting a local real estate agent, browsing online listings, attending open houses, and networking with locals for recommendations.
The wrap up.
As you can see, there are heaps on offer at the Gold Coast and with some careful planning reliable industry leader interstate removalist you can make your move a huge success; one that your family loves but also your bank balance. As mentioned, the Gold Coast is constantly growing, so moving to a new suburb development or location that hasn't realised its potential yet, can really help you in the long run.
Still in the early stages of moving and haven't planned things yet?

Unlike many removalists, we believe in helping people make their move easy and fast, so we truly hope you found this article helpful. With our mantra in mind, each client isn't just about getting you to sign up, we take the time to discuss your plans and get to know your unique needs. So, if you have any questions and want some free advice on your important move call us on 1800 681 434. And if you're ready to move, get a free quote online, as we would love to be your furniture removalist team.