What are professional office movers (and what do they do)?
Moving is always a big task, but relocating your entire office or business can be an even more stressful experience. Professional office removalists are there to make the process run smoothly and efficiently. They have the expertise, equipment, and knowledge to get everything from your current location to your new business address in the most secure and efficient way possible while ensuring the move is in accord with your timeline. In this post, we'll explain exactly what professional office movers do and how they can help your business make the move to your new location.
So what do office removalists do?
To give you an idea of how professional office movers can make your business relocation happen, they will look after:
Assessment and Communication
Planning
Packing and preparation
Transportation
Installation and setup
Storage as necessary
Stage 1: Moving assessment & communication
The first thing that professional office movers do is assess your company's needs in terms of timing, complexity and access, and so plan accordingly. At this early stage, it is important for you to have a moving plan and to communicate that moving plan to all stakeholders. This might mean advertising through mail, online, or through media so that customers, in addition to businesses that service your business, are aware of your new location. This facilitates ongoing business flow rather than a downturn in business while you relocate.
Stage 2: Planning
There are a number of issues that are good to keep in mind when preparing your moving plan so a moving checklist might assist you in that planning preparation. The provision of a floor plan for the new business space also enables the refitting of the new business by the office movers.
Ensuring that you engage the various utility services that you might need so that services are in place at the beginning of business at your new location is another important consideration. These might include:
Power connection
IT cabling and NBN hook-up
Water and gas if needed
Waste disposal
Courier and delivery services
Other transport services
Mail delivery and pick-up services
Security services
Stage 3: Packing & preparation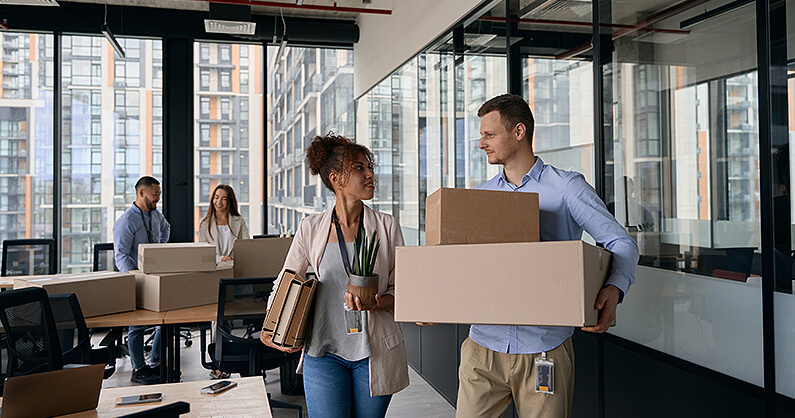 The office removalists will help you with the packaging and preparation of every item in your office or business, from large pieces of furniture or production equipment to the smallest of office equipment. This means they'll ensure that everything is properly dismantled, packed, labelled, and organised so that it arrives at the new location safely and damage-free.
At this point, it is reassuring to be aware of the fact that your business equipment is (or should be) covered in the move by transit insurance, something that it is best not to take for granted.
The movers also provide the necessary materials for packing, such as crates, boxes, and bubble wrap or any other logistics materials. Engaging with your staff to ascertain whether they might like to pack their own workspace can become an inclusive experience for them expanding the vision of what might be possible as a result of the move to the new location.
Stage 4: Transportation
Professional office movers have access to specially designed vehicles that will transport your business items to the new location. These vehicles are equipped with ramps, lift gates and other features that make loading and unloading large, heavy pieces of equipment possible.
The drivers themselves are highly skilled and experienced, and work at optimal efficiency ensuring that your items will arrive at your new location safely, securely and in a timely manner. This is where your new office floor plan can save you money enabling office removalists to place relevant items exactly where they are needed.
Stage 5: Installation & setup
Once everything has arrived at your new location, professional office removalists don't just drop off the equipment and leave. They will also provide installation, re-assembly and setup services, helping to place your furniture and equipment in the correct spots according to your floor plan or business plan and make sure everything is up and running.
This means that you won't have to worry about the added stress of setting up everything yourself, and you can focus on getting the business operating as soon as possible. This in turn ensures minimal disruption and limited downtime to your business flow which has huge benefits for your business productivity.
Storage as necessary
If your new location isn't quite ready or if you need to store items temporarily, professional office movers can provide fit-for-purpose storage solutions. They'll pack your items carefully and store them in a secure, climate-controlled facility until you're ready to move them to your new location. All this adds up to a service that fits your needs and those of your business strategy.
In conclusion
Moving your business can be a challenging task, but professional office removalists can make the process simple and efficient. They provide everything from packaging and transportation to installation, reassembly and setup, giving you peace of mind and letting you focus on the important aspects of getting your business running again.
When you're planning your next office or business move, calling a professional office mover should be your first step to a stress-free moving experience. With more than 30 years in the removalist business as an industry leader Austate office removalists can provide your business with all the logistics necessary to have your business packed up and relocated in a timely and efficient manner.